Top companies have a change of perspective in recent years about how they hire. I feel this change is driven by reality, the need to bring innovation to stay competent and the exorbitant cost of training resources.
These giants don't want your degrees; all they want is your real-skills. Because, the founders and leaders of these companies – Apple, Facebook, Google, Microsoft and 15 companies in the list below have seen the impact some of the founders as well as smart hires have made without having a college degree.
From Steve Jobs of Apple, Bill Gates of Microsoft, Mark Zuckerberg of Facebook and Arash Ferdowsi of Dropbox to Evan Williams of Twitter, Richard Branson of Virgin, Michael Dell of Dell Computers, Daniel Ek of Spotify, Charles Culpeper of Coca-Cola and Simon Cowell who many love to hate are the founders who either dropped out of the school, college or never even attended college ( I am not suggesting that college degrees are useless but there is something very profound in the real shift that is happening).
Most non-degree holders realized right in their college days or even before that; skills matter more than degrees and be courageous enough to follow their passion. I think they realized pretty fast that they were beyond just degrees and what they would learn in colleges.
Well, that passion and bold decisions are being rewarded.
Tim Cook, CEO of Apple, mentioned recently that half of the Apple's workforce doesn't have a degree. But they were extremely good at coding and that's what made the essential difference. In comparison they are better than their degree-holding counterparts. Why? Because they had more real-world skills for coding and they were way ahead of what degrees have taught them.
Tim adds that there's a mismatch between the skills learned in college and the real skills that are needed by the organization. I could not agree more with Tim and other leaders with a similar mindset.
List of companies that don't  require a degree
According to Glassdoor, here are the top 15 companies that no longer require a degree. I believe there will be a lot higher number of companies that will get added to this list in the next couple of years. There are many mid-sized companies already adopting the shift in "what they really look for in candidates".
Apple
Google
EY (UK)
Starbucks
Penguin Random House
Costco Wholesale
Whole Foods
Hilton
Publix
Nordstrom
Homedepot
IBM
Bank of America
Chipotle
Lowe's
"When you look at people who don't go to school and make their way in the world, those are exceptional human beings. And we should do everything we can to find those people," Google's former SVP of People Operations Laszlo Bock.
The hiring mindset has evolved
Since many colleges don't teach the real-time skills, the hiring trend is shifting from college degrees to having the actual skills irrespective of candidates having a college education or not.
And why is this happening?
Because the bottom line is 'skills!' If you have the necessary 'skills' everything else can just wait or simply not matter. And I have been a big proponent of this for a long time.
Considering college degree doesn't teach you the essential skills, there are a lot of platforms that have been developed to fast track your career and get the essential skills required. For example, freecodecamp.org offers free training and real-life projects to become a ninja coder. There are plenty of stories on the internet where developer got their first tech job in their 30s, 40s, and 50s simply because they acquired the skills required.
So, a lot of companies in the world have shifted their perspective and now, assessing skills rather than the degree to hire the real candidate.
During the hiring process, they believe that it's the attitude, after the skill part, that makes all the difference. And if both are astonishing, the degree doesn't become a deciding factor.
If you look closely, you will see a pattern in successful people. And the pattern is that they were ahead of the times, ahead of their colleges and ahead of any degrees. So if an employee comes to the company with exceptional skills minus the degree, the employee is grabbed hands on.
Companies are now going out of their traditional way to find such candidates and bring them on-board.
This is the new rule of the ever-evolving corporate sector. And I am so glad it's happening!
A small catch
However, there's a small catch here, which must be looked at. In the initial hiring scenario, the employees with college degrees earn slightly more than their non-degree holder counterparts. But that's just at the beginning of the career, during the tenure it's the smartest and the most skilled employee that wins the race. These are some of the observations and data presentations made by LinkedIn.
According to LinkedIn, companies have cut hiring time by 75% with innovative screening tools. These tools require Data, making it the real superpower. Other important facts and figures about 'new hiring trends' is right here in this report.
How AI (Artificial Intelligence) is assisting in finding great candidates?
While there has been a big shift in the mindset of what you really want in candidates, the process of finding such talent is still for the most part done in a traditional way that consumes a lot of recruiters' and hiring managers' time to screen, qualify, and interview candidates.
AI is starting to be used in some part of the hiring process but still in a limited way. Most current day AI and Machine Learning (ML) solutions still focus on keywords, match based on resume parsing and profile based questioning.
I believe that with the use of AI (beyond keywords and resume matching) in evidence-based skills mapping, the time to screen and qualify candidates can be reduced by up to 80% and in-turn slash the billable time hiring managers to spend on interviewing by 50% as they only need to interview candidates with a right match.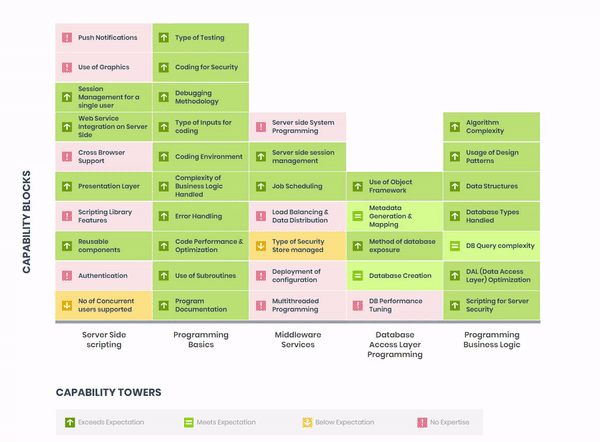 Litmus Profile showing a candidate's capability heatmap
Look at this TedX talk of our co-founder Sameer Agashe explaining how AI is supporting the fundamental shift in skills-based hiring.
So, what does the future hold?
I think the future looks interesting with the focus on "real skills", degree-less and smart hiring. And the future is right here.
I strongly believe that the future will be about skills only. If one goes to college and doesn't acquire real-world skills, what's the use of whole education? That's where the gap is getting wider and the reason why corporates are opting for skills over college degrees. And I strongly believe that gradually these fancy degrees will have less importance, while skills will rule the market.
And it will be a good thing for companies to hire the candidates and reduce the learning curve significantly.